Description
Our Best Selling Collar Tags!
Colorful and fun on the front – all business on the back!  Can be ordered for any pet with a registered microchip number.  Your pet will wear it proudly!  Get a spare for your key chain!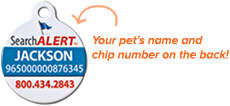 • Strong yet light steel core.
• Coated with an everlasting special polymer.  Colors are infused into the material.
• No etched areas to catch debris or hinder readability.
• Manufactured and made in the United States.
• Guaranteed to be readable for life. 
Sizes and Uses:
LARGE (1.25 inch) – Perfect all dogs and cats, recommended for medium to large breeds.
SMALL (7/8 inch) – Ideal for young puppies and all tiny breeds. Perfect for kittens and cats.
Included:
Sturdy steel ring for attachment to collar.
Glow-at-Night rim silencer can be used to prevent clinking!
Free Pet SearchALERT™ – Our team specialists are standing by to help day or night.